The Alchemy of the Heart
"The old world is fast disintegrating. All around us, we can see its structures decaying and turning into dust. Now it is up to us to help build the new world." In this moving book, Reshad Feild defines the task now facing us and emphasises that, if this new world is to endure, it can only be built of love. Giving up the pursuit of transient material concerns, we must each accept love as the only truth. This conscious surrender is the process he calls "alchemy of the heart".
Authorhouse
ISBN 978.1.420831.108
Paperback | 208 pages
Order from Amazon or Powells or Barnes & Noble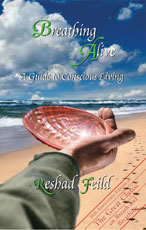 Breathing Alive
A Guide to Conscious Living
The great Sufi mystic Muhyiddin Ibn Arabi once said, "All is contained in the Divine Breath, like the day in the morning's dawn." If we become aware of the power of our breath, we have the ability to bring about real change, both psychologically and potentially on a vast scale. But what is this breath that is fundamental to our existence? In this book, Reshad Feild shows us that it is actually not so difficult to understand when we come to realize that we all have just one thing in common – the element of air.
Authorhouse
ISBN 978.1.434386.616
Paperback | 152 pages
Order from Amazon or Powells or Barnes & Noble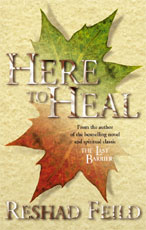 Here to Heal
A brilliant document about healing. Written in personal rather than purely technical language, the book is humorous, informative and instructional. Using an autobiographical approach, Reshad Feild brings healing out of the realm of intangible "esoterica" and places it in a framework which is applicable to anyone and easy to understand. He expands the definition of healing to include our own lives – now – and offers techniques which can apply to help not only ourselves but also our children and our children's children.
Gateways Books
ISBN 978.0.895561.572
Paperback | 130 pages
Order from Amazon or Barnes & Noble
Steps to Freedom
Discourses on the Essential Knowledge of the Heart
This collection of thirty-nine discourses on the essential knowledge of the heart offers a way of living that is not limited by the patterns of the past or the concepts of the mind. By opening to the force of love, the only source of enduring change and real healing, we can be led to the timeless knowledge of who and what we really are. "The natural state of the soul is freedom. We will know we are free the moment we surrender totally to the perfection of life in each moment."
Chalice Guild
ISBN 978.0.962541.216
Hardcover | 220 pages
Order from Amazon or Barnes & Noble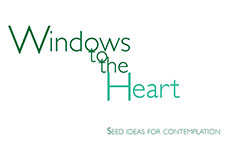 Windows to the Heart
Seed Ideas for Contemplation
Sayings and quotes from Reshad Feild, Bulent Rauf, Muhyiddin Ibn Arabi, Jalal ad-Din Rumi, Hafiz and other mystics that come from the essence of inner teachings put together by a group of Reshad's students into a fine booklet with 52 weekly themes. The beautifully designed book with its black and white photos can inspire to contemplation, produce questions or enrich our daily lives.
Books on Demand
ISBN 3.735.725.619
Kindle | 70 pages
Order from Amazon as Kindle e-book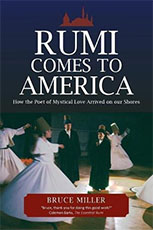 Bruce Miller
Rumi Comes to America
How the Port of Mystical Love Arrived on our Shores
In 1976, few people had heard of Jalal ad-Din Rumi. Yet, in a stellar leap that no one could have predicted, this 13th-century Islamic theologian would soon become America's best-selling poet. From the author's first-hand storytelling, interviews, recorded talks, and archival photographs, Rumi Comes to America describes the generational yearning, fortuitous events, spiritual mishaps, and everyday miracles that propelled Rumi's ancient mystical tradition to take root in America.
Miller eMedia
ISBN 978.0.998313.818
Paperback | 236 pages
Order from Amazon